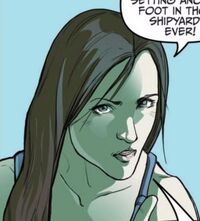 Arlyne Jorgenson Scott[1] was a 23rd century Human female of Scottish and Danish descent[2].
By the early 2230s, she resided in the town of Linlithgow[3][4], West Lothian, Scotland, with her husband and three children, Montgomery, Clara[5], and Robbie[3]. She also had a sister, named Ingrid, who resided near the city of Aberdeen[2].
As her children were growing up, Arlyne would tell them bedtime stories about their swashbuckling ancestors and their adventures on their high seas. Montgomery, in particular, was inspired to sail on a vessel, albeit one traveling in space with a warp engine. In 2231, he used this inspiration to trespass on the Linlithgow Shipyards and sneak aboard a starship with his brother Robbie. Arlyne admonished her son and told him that he was "too smart for his own good"[3].
Montgomery regarded his mother to be the best cook in Aberdeen – and indeed Scotland – and put this down to her Danish ancestry[5].
Notes and references
Edit
↑ Star Trek: Ongoing: "Scotty". This story states that Scotty's full name is "Montgomery Christopher Jorgenson Scott", supporting Strange New Worlds VI: "Bum Radish: Five Spins on a Turquoise Reindeer".
↑ 3.0 3.1 3.2 Star Trek: Ongoing: "Scotty".
External links
Edit